As the year comes to a close, there are a lot of fun ways to recap the best 2019's films had to offer. There are a lot of fun lists out there covering best trailers, posters, scores, and more. While I have my Top Ten list of favorite films coming soon enough, I wanted to challenge myself once again to list out my favorite movie scenes of the year. I managed to narrow it down to many memorable scenes from throughout the year (though I've no doubt managed to miss a few moments I really responded to at the time). It represents a lot of fun or crucial scenes ranging from action sequences to big comedy moments, to terrific monologues. Enjoy!
Here are a few runner-ups:
A Minute of Quiet in A Beautiful Day in the Neighborhood. The Opening Dance in Climax. Explaining The Corruption in Dark Waters. "It's the Theme Song" from The Dead Don't Die. Lady Reed Thanks Rudy in Dolemite Is My Name. Hoffa's Final Moments in The Irishman. Beating A Dead Seagull in The Lighthouse. The Filming Of Lancer in Once Upon A Time In Hollywood. The Knife Trick in Marriage Story. Shazam(s) in Shazam. Performing "Crocodile Rock" in Rocketman. The Jedi Call To Rey – Star Wars: The Rise of Skywalker. Performing "Help" in Yesterday.
Favorite Scenes Presented in Alphabetical Order by Film:
Moon Chase – Ad Astra
While Ad Astra is an emotionally serious film about one man's journey to the edge of the universe to reconnect with a father who has dismissed humanity, it also has its share of thrilling action sequences. The best is a moon buggy car chase on the lunar surface, where Brad Pitt has to deal with literal space pirates interrupting his mission. The use of sound design and visual effects are especially effective in this wild moment from the film.

Lunar Landing – Apollo 11
Two moon moments in a row! And that's not all. Last year, I essentially picked the same moment in First Man. The difference with Apollo 11 is the focus on the actual footage of the lunar module landing on the moon's surface. Thanks to unearthed footage and a fantastic feat of editing for the sake of a compelling documentary, audiences can see another suspenseful look at the arrival of astronauts on the moon. Even though we know the outcome, it is made extraordinary through the gripping countdown, followed by an immense relief that it all works out.
Thor Finds His Strength – Avengers: Endgame
There's a definite personal component for me, as far as Thor having a chance to speak with his deceased mother. It ultimately allows him to get over the various traumas he's experienced, regaining his strength (while maintaining his shape). However, there's a universal good that comes from how unexpected it is to see Avengers: Endgame somehow make Thor: The Dark World retroactively better and more important to the MCU as a whole. This comes in addition to letting Rene Russo have a chance to shine as well, given how underserved she was in the previous Thor films. While there's an audience that feels Thor's appearance was only meant for laughs, this whole sequence fully helps in justifying what the mighty God of Thunder was dealing with. The result allows for newfound confidence that I can only imagine others wish they could have or regain.

"I Am Iron Man" – Avengers: Endgame
While the return of the heroes through all of the portals was a big moment in terms of scale, the end of this epic battle had a moment far more impactful. After all the fighting and major fan moments, it finally came down to Tony Stark saving everyone's lives. With Thanos and his armies vanquished, Tony spent his dying moments with those who loved him. The moment is pitch-perfect, as the exact right characters were present, including Rhodes, Peter Parker, and most importantly, Pepper Potts. While this is finally the time where Tony doesn't have to say a lot, Pepper's help in comforting him as he passes on, ensuring him the world is safe and he can finally rest, really helps sell the emotional weight of this moment.

Pizza Delivery – Booksmart
Booksmart is packed with a lot of hilarious moments, but I'd like to opt for the part where Mike O'Brien shows up and nearly steals the entire movie. At one point, Beanie Feldstein and Kaitlyn Dever's characters attempt a ridiculous plan to force a pizza guy to tell them the address of where he delivered some pizzas, using their hair as masks. O'Brien's pizza delivery driver turns it around on the two ladies, however. He shoots down every aspect of their plan, showing them all of the ways it could have gone disastrously for them (including pulling out his gun), and just being very funny in general. The sequence only becomes funnier in retrospect, given another reveal about O'Brien's character later in the film.

Test Drive With The Deuce – Ford v Ferrari
For a film full of exciting races, and a wholly likable Christian Bale, the best moment comes from a test drive. Matt Damon's Carroll Shelby takes Tracy Letts' Henry Ford II for a ride, with a plan to convince Ford to let Bale's Ken Miles drive for the Ford company. The result is initially humorous, with Shelby going super fast, as Ford erupts with fear. However, we then watch Letts transform the scene by breaking down, showing how Ford now understands the gravity of the situation. It's a terrific sequence. Rodan's Rebirth – Godzilla: King of the Monsters
Narrowing things down to just one wild monster movie moment is difficult, but Rodan's entrance in Godzilla: King of the Monsters is spectacular. His arrival out of a volcano is a terrific visual, and it's followed by all the destruction he reigns upon the Mexican city he is near. It then turns into a dogfight between the flying kaiju and several fighter jets, which he taunts and destroys. The end of this fantastic sequence finds Rodan squaring off with King Ghidorah in another wonderfully realized visual moment, coming off as a watercolor painting of epic proportions.
 "Who Wears Shorts To A Meeting?"  – The Irishman
Martin Scorsese's crime epic shines in plenty of ways, but there was one scene I had to narrow it down to. For all the self-reflection we see with Robert De Niro's Frank Sheeran, he takes a backseat to Al Pacino's Jimmy Hoff and Stephen Graham's Tony Pro in this Miami-based meet-up. It features Hoffa slowly getting angry, as Tony Pro arrives 15 minutes late to a meeting. The two, who already share previous bad history, don't even begin negotiating, as they are too busy arguing over proper etiquette. It eventually turns into a fistfight. Everyone is excellent in this scene, but it once again shows how terrific Pacino is in this film. He uses his loudness and the rage he can bring out, letting it help in building the tension between the characters, and ultimately being unleashed in a way that's both entertaining, and allows further understanding of where this story is going.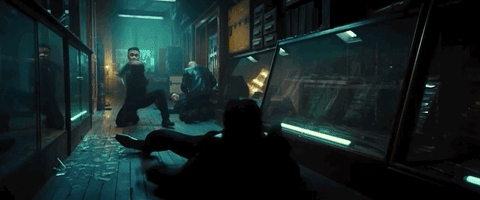 Knife Fight In A Gun Shop – John Wick: Chapter 3 – Parabellum
There are a lot of great fights throughout John Wick 3, but the showdown set in an antique gun shop may be my favorite. It features John Wick taking on multiple opponents, with a lot of improvised weaponry. It all eventually boils down to men hurling axes at each other, ending with John taking a knife and fully inserting it into an assassins' eye. Bonus points for that assassin being Tiger Chen, the star of Reeves' directorial debut, Man of Tai Chi. Plus, the whole sequence begins with a wonderful homage to The Good, The Bad, and the Ugly, as John works fast to take all the pieces of various guns and assemble them into just the right combination.

Donut Hole – Knives Out
"I spoke in the car about the hole at the center of this donut, and what you and Harlem did that fateful night seems at first glance to fill that hole perfectly; a donut hole in a donut's hole. But we must look a little center. And when we do, we see the donut hole has a hole in its center. It is not a donut hole, but a smaller donut with its own hole, and our donut is not whole at all." – Benoit Blanc

Performance Review – The Last Black Man In San Francisco
Through much of the film, while following Jimmy and Mont, there are occasional check-ins with a group of men who seemingly do nothing but talk trash outside of Mont's home. They make up a Greek chorus of sorts, but they occasionally get quite rowdy. One night, the men begin lashing out between each other, only for Mont (who has been studying them) to walk up and break the tension by evaluating the "realness" of their "performances." It speaks to the theatrical prism Mont is trying to establish for his play, but also humorously confuses the men enough to keep from becoming violent with each other.
"Being Alive" – Marriage Story
It's been a big year for Stephen Sondheim songs finding their way into movies (Joker wins for the most unexpected moment). Adam Driver singing "Being Alive," takes top prize.

Ättestupa – Midsommar
To be clear: It's a bad move on William Jackson Harper's Josh not to give the rest of his friends a heads up on what an Ättestupa is, the day before they watch it. Seeing people voluntarily throwing themselves off a cliff is not going to be a comforting sight… or is it? I'm not going to say I agree with the methods of this cult, but experiencing this moment in a theater was less disturbing than it could have been under a different context. Yes, there are horrifying elements, particularly when we see the aftermath of the old man who didn't jump quite right, but there was strange ease to the whole sequence as well, thanks to score and cinematography.

Visting Spahn Ranch – Once Upon A Time In Hollywood
Even after looking at the amazing work to build up scenes and utilize suspense in Tarantino's other films, particularly Inglourious Basterds, I still find this entire sequence involving Spahn Ranch to be the tensest piece of filmmaking the director has ever put together. Perhaps it comes from the inclusion of real characters and a narrative not entirely determined up to this point. Yes, the tension is eventually deflated by a visit with Bruce Dern's George Spahn, but Cliff Booth's arrival leads to so much unease, as we watch the Manson Family slowly gather around him. The addition of Austin Butler's Tex Watson galloping like a hero on horseback to help deal with Booth is a terrific bit of subversion as well.

Watching F.B.I. – Once Upon A Time In Hollywood
Watching Leonardo DiCaprio's Rick Dalton during his filming of Lancer is when this movie is entirely on fire. At the same time, watching the relaxed nature of Rick and Cliff hanging out at home, watching Rick's episode of F.B.I. is a delight. Between the incredible work to recreate an actual episode of F.B.I. and the running commentary from Rick and Cliff, this is the exact right way to nail the tone of a film indebted to an older era. At the same time, we see just how strong the friendship is between these two, as we enjoy the banter they have, as the film moves into its final act.

Kick, Push, Stairs – Parasite
A key to Parasite's success is how the film balances dark humor and suspense. There are plenty of Hitchcockian moments in Bong Joon-ho's social thriller. Several moments truly emphasize this, but the one I want to spotlight is an expert bit of timing and editing. With time not on the Kim family's side and the escalating threat of those below, to stop everything from being ruined, Chung-sook takes an opportunity to kick another person down some stairs, while preparing a meal for the Park family, who have arrived home early from their trip. It's a quick bit that has some metaphorical aspects tied to it but also serves as a bit of black comedy showing just how impeccably made this film is to allow for a very specific reaction.

Closure – Pain & Glory
Pedro Almodóvar's semi-autobiographical film features some career-best work from Antonio Banderas, with Penelope Cruz providing excellent support as well. While I won't delve into exact details, there's a final moment at the end of the film that really took me by surprise. It involves a reveal that serves as a perfect ending to the film. It's emotionally telling and handled in a way that brings a smile to one's face, given all we had learned up to that point.

Plush Rush – Toy Story 4
While perhaps not tugging on the heartstrings as much as some of the previous entries, Toy Story 4 may be the funniest entry in Pixar's flagship series. I don't think I laughed harder at any scene all year than I did when Keegan-Michael Key and Jordan Peele's Ducky and Bunny explained a few possible plans for how to get a key they need to rescue Forky. There's a surprise factor to it, which allows for plenty of shock value. Still, it's also the continued reveal of new scenarios that play with expectations. Yes, people seem to like crying in these movies, but it doesn't overtake just how funny they can really be.

The Girl & Her Shadow – Us
"Once upon a time, there was a girl, and the girl had a shadow. The two were connected, tethered together. And the girl ate, her food was given to her warm and tasty. But when the shadow was hungry, he had to eat rabbit raw and bloody. On Christmas, the girl received wonderful toys; soft and cushy. But the shadow's toys were so sharp and cold they sliced through her fingers when she tried to play with them. The girl met a handsome prince and fell in love. But the shadow at that same time had Abraham, it didn't matter if she loved him or not. He was tethered to the girl's prince after all. Then the girl had her first child, a beautiful baby girl. But the shadow, she gave birth to a little monster. Umbrae was born laughing. The girl had a second child, a boy this time. They had to cut her open and take him from her belly. The shadow had to do it all herself. She named him Pluto; he was born to love fire. So, you see, the shadow hated the girl so much for so long until one day the shadow realized she was being tested by God." – Red
***
And one more thing: