Contrary to what many may believe, artistic genius isn't always necessarily a cosmic occurrence in which God bestows favor upon a specific individual. Artistic gifts are often fostered for generations, manifesting in different ways down the branches of the family tree. After a while, through probability, all the best aspects of the ancestors reemerge in one individual, priming them for stardom. It's strange to think, but while we're each our own person, our talents, livelihoods, and even mindset are a composite of other people that existed before us.
Ralph Bakshi's animated musical odyssey, American Pop, tells the story of how one musical prodigy came to be over the span of three generations. One of Bakshi's best films, American Pop, is an ode to music, fatherhood, and the American dream. Often overlooked in comparison to Bakshi's other works (Fritz the Cat, Lord of the Rings, Wizards, and more), American Pop is perhaps one of his best creations as it carries more subtle messages of a family's resilience over time and how a human's lineage can live on through music. A film with a universal message, American Pop is a rags-to-riches tale that dives into the generational trauma that led to it. In some promos for the film that existed, a tagline stated, "It took three generations for them to get it right."
Combined with the writing of Ronni Kern and the naturalistic acting of its voice talents, American Pop, despite its animated format, it is an emotional experience. It illuminates the path of so many musicians, past and present, who've profoundly affected pop culture history.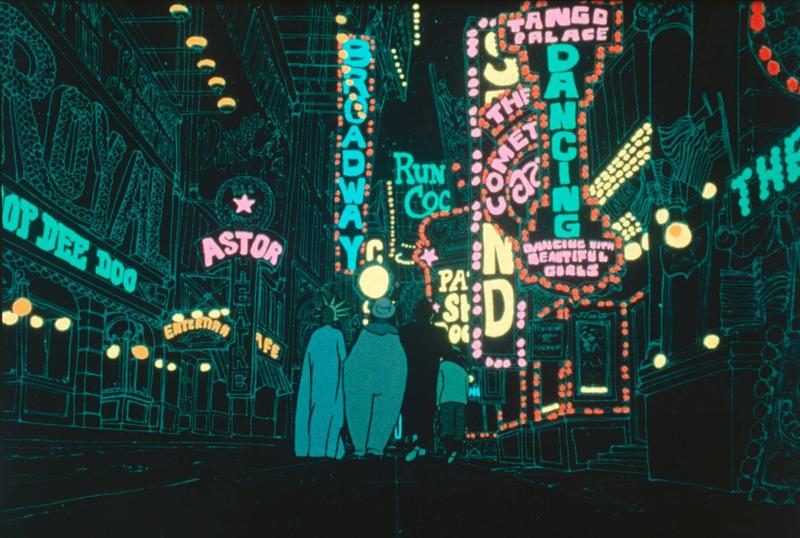 The film opens in Imperial Russia during a raid by the Cossacks. Seeing the carnage going on, a woman grabs her young son and attempts to pry away her husband, a rabbi, away from his synagogue. As the village is set ablaze, the rabbi recites a prayer, which is the last thing he ever does. With nowhere safe to go, the woman and her son, Zalmie, flee to New York City for a new life. Shortly after their arrival, Zalmie (the adult version played by Jeffrey Lippa) finds himself on the vaudeville circuit, handing out chorus slips for his boss Louie, who then becomes an adopted father of sorts when Zalmie's mother dies.
Over the span of 40 years, we see Zalmie go from an eager young boy to a hardened mob crony. With a natural gift for showbusiness, Zalmie lights up the vaudeville circuit. After losing his voice from injuries from a violent accident, the former performer becomes addicted to priming his family for success. After he meets the love of his life, Bella, he vows to make her a star. After his wife dies (also from a horrible accident), Zalmie urges his son Benny, a gifted pianist, to pursue music full-time. Being more practical, Benny enlists to serve in the military during World War II. Unfortunately, Benny perishes at a nazi's hands, leaving his wife and infant son, Tony, behind. Tony (Ron Thompson) earns the longest segment in the film. As a teenager, Tony leaves home and goes on a cross-country adventure to San Francisco. With neither a singing voice nor an ability to play guitar, Tony becomes a writer when a band hears him play harmonica on the streets. Almost overnight, the band achieves incredible success. However, it's short-lived when the band's lead singer dies, and Tony becomes addicted to heroin.
While we're taken on this psychedelic journey, numerous real-life musicians appear, or their influence is felt. The most notable appearance is Jimi Hendrix (Whose grandparents started in vaudeville). Frankie (Mews Small), one of the film's most important characters, was inspired by artists such as Janis Joplin and Grace Slick of Jefferson Airplane. Along the way, music appears by the Mamas and Papas, the Sex Pistols, Herbie Hancock, The Doors, Lynard Skynard, Pat Benatar, Bob Dylan, Bob Seger, and more.
At a tight 90 minutes, American Pop is easily a film that could have been longer. It shows us how quickly life moves on, whether you're ready or not. There are a lot of unanswered questions and loose ends that are left up to interpretation. Zalmie, a pivotal aspect of the odyssey, never gets a proper send-off. Tony merely disappears, never to be seen or heard from again. Additionally, an hour and a half is a bit short for a film that spans nearly 80 years, which sees so many important historical events and so many evolving music styles. The film concludes with the success of Pete (also voiced by Ron Thompson), a blonde arena rocker in the eighties.
For the most part, it's still difficult to find background information on American Pop. Considered a "lost film" for years, American Pop only became available on home video in 1998 due to music clearances. Outside of sporadic reviews from 1981, there's little insight into the filmmaking process, and Ralph Bakshi's thoughts on the feature, which would be amazing. Since Bakshi is another filmmaker who was consistently wronged by studios (to the point he left Hollywood altogether), American Pop had the potential to be even more than what it was.
Although Pete maintains a living as a drug dealer, he still has aspirations to become a successful musician. As Pete roams about New York, we see he's been blessed with the best of each of the men before him. As he goes about his duties, Pete passes a chanting rabbi- a nod to Zalmie's father at the beginning of the film. While each of the men had some musical ability (Zalmie was a singer, Benny, a pianist, and Tony, a writer), Pete can do it all. He can sing, he can play music, and he writes his own songs. As the final scene engulfs the screen, Pete's ancestors' flashes appear as he performs on stage in front of thousands. With so many rock tales that end in tragedy, we can only hope that Pete's success is the final frontier after years of hardship and loss.
Pete's victory is the pinnacle of the American Dream that so many seek, but few achieve. After Zalmie comes to America, he finds success, but not the kind he seeks, so he aims to live through his son. When that doesn't work out, Zalmie's story ends with him in prison, disavowing his mafia ties. Although Zalmie disappears halfway through the story, his great-grandson is the one who lives up to his dream. The dream came at a hefty price, but it was a rewarding payoff.