Give the Gift of HBO this Holiday Season!
HBO is making holiday shopping easier than ever this year by offering fans the chance to give a gift everyone can enjoy–the HBO NOW gift card! HBO NOW gift cards are available now in denominations of $25 and $50 at Walmart, Best Buy and GameStop stores throughout the U.S. and will launch at H-E-B grocery stores in Texas later this month, just in time for TV fans to add an HBO NOW subscription to their holiday wish lists.
In addition, HBO Home Entertainment recently released the following Blu-ray/DVDs:
Game of Thrones: Seasons 1-6 boxed set
Game of Thrones: The Complete Sixth Season
The Night Of
Looking: The Complete Series and Movie
ABOUT HBO NOW
HBO NOW
provides audiences with instant access to all of HBO—addictive series, unforgettable movies, thought-provoking documentaries, thrilling sports programs and entertaining comedy and music specials—across a variety of their favorite devices, including Android phones and tablets, Amazon FireTV, Fire Tablet, iPhone, iPad, Apple TV, Chromecast, Roku, Xbox 360, Xbox One, PlayStation 3, PlayStation 4 and Samsung Smart TVs.Subscribers can catch the latest must-see box office hits like
Deadpool, The Revenant, Ride Along 2
and
Sisters
, plus HBO's amazing line up of current series including
Game of Thrones®, Westworld, Silicon Valley®, VEEP®
and
Last Week Tonight with John OliverSM
, plus the recent seasons of
Ballers®, Vice PrincipalsSM
and
Girls®.
HBO NOW also features every episode of every season of HBO classics like
The Sopranos
®
,
Sex and the City
®
,
True Blood
®
,
The Wire
®
,
Six Feet Under®
and
Deadwood
®
. 
Whether your best friend is a Carrie or a Samantha, your brother is a Dinesh or a Guilfoyle, or your father is a Stark or a Lannister, the HBO NOW gift card is the perfect gift to help everyone on your wish list channel their inner HBO star.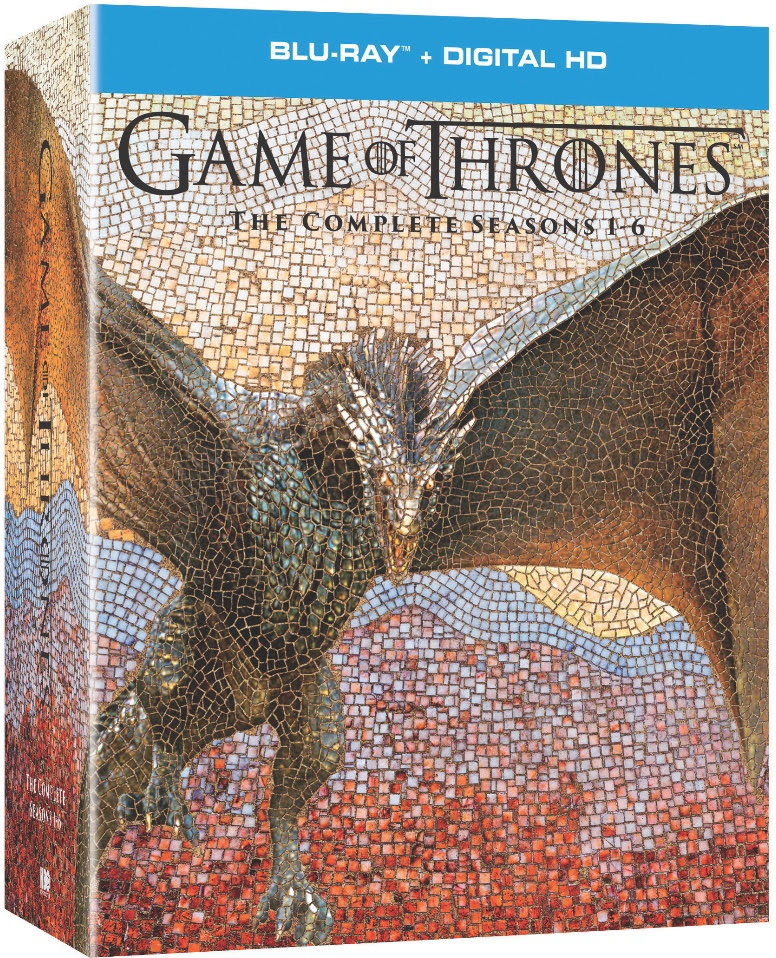 ABOUT GAME OF THRONES: SEASONS 1-6
To help inveterate GoT viewers pass the long, dark months awaiting Season 7 in 2017, HBO offers up GAME OF THRONES: SEASONS 1-6 on DVD and Blu-ray™ with Digital Download.Worthy of any treasure from Meereen to Kings Landing, the Complete Set features all six thrilling seasons of the landmark series that just broke the record for the highest number of Emmy® Awards won by any primetime series in TV history.  And, aside from complete episodes, GAME OF THRONES: SEASONS 1-6 also includes hours of acclaimed and exclusive bonus materials – in-depth interviews with cast & crew, behind-the-scenes featurettes, audio commentaries and more —  from all previous boxed set releases.
ABOUT GAME OF THRONES: THE COMPLETE SIXTH SEASON
GAME OF THRONES: THE COMPLETE SIXTH SEASON is available now on Blu-ray and DVD.
The most-watched series in HBO history and a worldwide TV phenomenon, Game of Thrones returns with another power season. This year, after the shocking developments at the end of Season 5 – including Jon Snow's bloody fate at the hands of Castle Black mutineers, Daenerys' near-demise at the fighting pits of Meereen, and Cersei's public humiliation in the streets of King's Landing – survivors from all parts of Westeros and Essos regroup to press forward, inexorably, towards their uncertain individual fates. Familiar faces will forge new alliances to bolster their strategic chances at survival, while new characters will emerge to challenge the balance of power in the east, west, north and south.
The set features all 10 episodes, plus extensive bonus content including behind-the-scene footage, Deleted Scenes, Histories and Lore and Audio Commentaries.
ABOUT THE NIGHT OF
The smash hit HBO crime series THE NIGHT OF is available on Blu-ray and DVD now.In The Night Of, Pakistani-American college student Nasir "Naz" Khan, who lives with his parents in Queens, NY, takes his father's taxi to go to a party in Manhattan. But what starts as a perfect night for Naz becomes a nightmare when he's arrested for murder. The series examines the police investigation, the legal proceedings, the criminal justice system and Rikers Island, where the accused await trial.
ABOUT LOOKING: THE COMPLETE SERIES & MOVIE
LOOKING: THE COMPLETE SERIES AND MOVIE is available now on Blu-ray and DVD.Unlike any show out there, the HBO series
Looking
focuses on current gay life in the Bay Area and on themes that everyone, gay and straight, can relate to: falling in love, finding professional fulfillment, forging an identity in a complicated world, and searching for happiness. Critics have heralded the series as "a real beauty…a stealth breakthrough" (
The New Yorker
), and now fans and new viewers alike have the chance to add LOOKING THE COMPLETE SERIES AND MOVIE to their home entertainment collection.
The set comes with 16 Audio Commentaries from cast and crew including Jonathan Groff, Frankie J. Alvarez, executive producers Michael Lannan and Andrew Haigh and many more.
About HBO Home Entertainment®
HBO Home Entertainment develops, distributes and markets an extensive array of critically-acclaimed and groundbreaking programs in three formats—Blu-ray, DVD, and Digital HD—throughout the world.  Releases include the global hit Game of Thrones®, the #1 selling TV on DVD/Blu-ray title in major territories throughout the world over the past four years, in addition to current hits and classic favorites including True Detective®, Girls®, The Sopranos®, Sex and the City® True Blood®, The Wire® and Entourage®. The company's catalog contains hundreds of titles including multiple Emmy® Award-winning mini-series The Pacific® and Band of Brothers®, which holds the record through 2014 as the all-time best selling TV on DVD/Blu-ray title in the US; provocative programs from HBO Documentary Films including The Jinx: The Life & Deaths of Robert Durst and The Case Against 8; innovative movies from HBO Films including Game Change and The Normal Heart; hit Cinemax® original series including BansheeSM and Strike Back®; and comedy specials featuring stand-up performers like Bill Maher and Billy Crystal.  Launched in 1984, HBO Home Entertainment has offices in New York, London and Toronto. The company's releases are sold in more than 70 territories around the world and are digitally distributed on a transactional basis across an expanding number of territories and platforms.